Rebecca Dumlao
---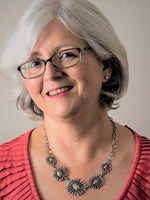 Professor
Education:
Ph.D. Mass Communication, University of Wisconsin-Madison, 1997
M.S. Scientific and Technical Communication, Oregon State University, 1992
B.S. Home Economics Education/ Early Childhood Education (double major), Pennsylvania State University, 1977
Courses Taught:
Undergraduate: Organizational Communication Theory; Small Group Communication; Intercultural Communication; Family Communication; Puppet Shows that Make a Difference (Honors seminar) and others. Graduate: Family Communication and Health; Intercultural Communication in Health Contexts; Interpersonal Health Communication.
Research Interests:
Family communication, communication in campus-community partnerships, service- learning pedagogy.

Scholarly Work/Publications:
Dr. Dumlao's work has been published in: Journal of Higher Education, Outreach and Engagement;  Journal of Community Engagement and Scholarship; Journal of Family Communication, Science Communication, and Health Communication. She serves on the Editorial Board for Partnerships: A Journal of Service-Learning and Civic Engagement. She is currently completing a book on Collaborative Communication for Community-Campus Partners.